You can't even begin to talk about Cincinnati beer without mentioning Christian Moerlein brewing company and it's owner, Greg Hardman. Truly the heros of the "new beer boom" in Cincinnati, they operate both their production brewery in Over the Rhine, and also the Moerlein Lager House down on the banks. The story of Moerlein starts in 1853, but that's another story. The one we are interested in is the story that started in 2004.
Cincinnati beer was all but dead in 2004, until a Cincinnati resident, Greg Hardman, purchased the brand. Sheer determination to bring the glory that was once Cincinnati beer back to the city, drove him to spend the next five years acquiring many other of Cincinnati's long lost brands from a certain grave. 2010 brought the brands back to the city in the form of a building purchase in Over The Rhine, the city's first brewing neighborhood and in 2013, beer was once again pumping within it's walls.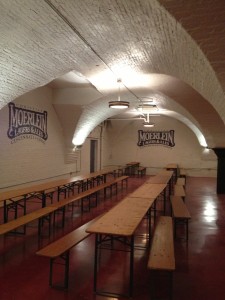 The taproom that is at the production brewery is inside the historic Kauffman Brewery malt house, a room that features sweeping brick arches that will inspire any die hard beer history fans. The beers on tap are all moerlein staples, with a few features every once in a while that you can't purchase in bottles outside of the brewery. Most of their beers tend to be toward the highly approachable styles that most new craft drinkers will be comfortable with, but that doesn't mean jack about the quality of the beer. The brewery features some games to keep the crowd entertained on weekends, and has enough space to entertain quite the crowd.
The brewery hosts several events throughout the year that play to the history of beer in Cincinnati, the best of which in my opinion is Bockfest every spring, featuring a tour through some of the old abandoned lagering tunnels that can be found under the city still today.