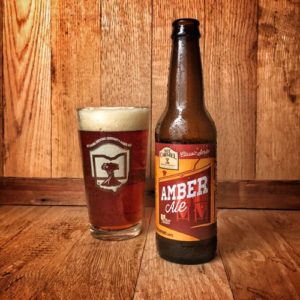 Brewery- Mt. Carmel Brewing Company
Beer- Amber Ale
Style – Amber Ale
ABV- 6%
IBU- 34
Our flagship Amber Ale is deep amber in color, entering with an aroma of fresh hops, coupled with a smooth flavorful body, balancing a complex hop finish.
You might pass this one right up when you're at your local bottle shop.  It's be named one of people's favorite "beginner beers" and put on plenty of "gateway beer" lists before.  Why then would you, an experienced craft beer fan, pick one up with so many other options around?  Because it's damn good, that's why.
You don't become a flagship beer at a brewery just because you're simple.  That's been the death of more beers than I can shake a stick at.  No, you become that way because people fall in love with you, and it's easy to fall in love with a beer like Mt. Carmel's Amber Ale.  It's a huge segment of beer, and it's easy to get lost in that – Mt. Carmel managed to cement this beer into people's consciousness because at the time of it's birth there just wasn't very much local beer being made – it's been a crowd favorite ever since.
My Thoughts On Mt. Carmel Amber Ale
It's obvious what this looks like in the glass… true to it's style name, it pours a deep amber color with a light tan head.
Aromas are full of nice sweet breadiness hit with a full load of earthy, grassy hops.  This beer smells like the warm breeze that you'll find while sitting on the big patio outside of Mt. Carmel's farmhouse taproom.
To taste this beer is to take a trip through a balanced glass of beer.  You've got a full range of bread, and toastiness that sits right next to grassy hops and a nice sweet brown sugar finish.  None of these fights with each other though, instead taking the high road of cooperation, leaving you as the drinker, with a joy of a beer to taste.