When I first talked about Rhinegeist's new cider program, dubbed Cidergeist, we had the chance to try it only on tap at the Over The Rhine brewery, and it wasn't long before we started seeing cans stacked up in their massive taproom.  Rumors have been floating around the last few weeks as the brewery has been making the rounds around the city with samples for different bars about a release date, and this morning confirmation has finally arrived!
Cans of their Semi-Dry and Dry-Hopped ciders should start showing up around town at the beginning next week (October 5th) while you'll start seeing it on draft the week following (October 12th).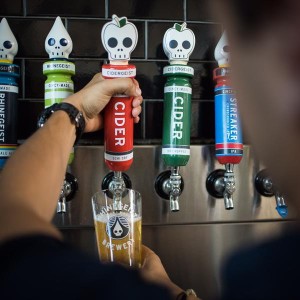 This Cidergeist release is, of course, coupled with some fun events around town to help you cider fans get in on the action and try the ciders for yourself if you haven't yet had the chance.  Fogarty's Irish Pub in Hamilton will have the ciders on tap on October 9-10 leading up to the release, and there is a "Cider Brunch" from 11am-2pm on October 11th at the Comet in Northside.
So… cider nuts… go nuts!
As a side note, that has little to do with Ciders at all, if you didn't hear yet, Rhinegeist also just won a medal at this year's Great American Beer Festival in Denver for their 'Sherry Ink' Imperial Stout.  We've also heard word that they have teamed up with Kroger for a Barrel Aged release that we're going to be hearing a lot about in the near future… as for if it's going to be released anywhere other than Kroger stores?  Time will tell.  We know that with their new expansion, they have increased the capacity of their barrel aging and souring programs considerably, so it's exciting to think about what else might be in the pipeline!