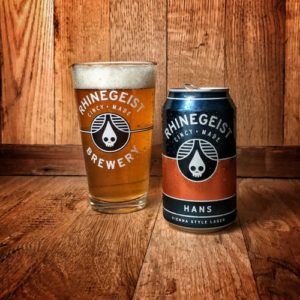 Brewery – Rhinegeist
Beer – Hans
Style – Vienna Lager
ABV – 4.8%
IBUs – 25
This Vienna style Lager shines with soft and clean toasted bread notes.  Light filters into a tree-lined courtyard, somewhere in the distance classical music can be heard.  Quietly, Hans types his scribbled notes into a manuscript, pausing to adjust his wire-rimmed glasses and take a sip of his lager, he smiles.
This beer is the 'Brother' of Rhinegeist's Oktoberfest, called Franz.  It's similar in that it's a Rhinegeist take on a traditional German style, paying homage to the history of their brewery space, while still putting their own spin on things.
I have to say, this is a little closer to traditional than Franz is, and I like seeing that from Rhinegeist.  You don't see them putting out a lot of soft, elegant beers, and this one flirts with that a little bit.
My Thoughts On Rhinegeist Hans
I love German beers, I love the easy drinking nature that they bring to the table.  Hans manages to be soft, elegant, and easy drinking, while still maintaining a 'Rhinegeist Character' that's hard to put into words.
In the glass, the beer is coppery with a nice medium off-white head on top.
Aromas are bready, with the malt shining from the get-go.
Taste is really nice and smooth.  It's 'drinkable'.  This is a beer that begs to be sipped alongside dinner, with it's toastiness and breadiness pairing well with your meal, and it's clean, crisp, body working perfectly to cleanse the palate during your meal.
A style that I'd love to see more of around town – Hans is a great nod to tradition from Rhinegeist Brewing Company, and I hope it's a sign of things to come from them.