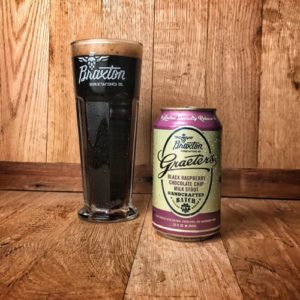 Brewery – Braxton
Beer – Graeters Black Raspberry Chocolate Chip Milk Stout
Style – Milk Stout
ABV – 7%
IBU – 30
This delicious beer is dominated by black raspberry overtones with fresh chocolate and a very slight roast in the finish that every great milk stout should have. A reasonable addition of lactose makes this a slightly sweeter stout, just like your favorite ice cream.
The Cincinnati craft beer hype machine threw itself into full-on overdrive in the winter of 2017 when the news of this beer first started coming out.  This city loves Graeter's, and I think that you know by now that it loves its beer as well.  Combine the two and a black hole cracks open, and everyone goes freaking insane.
The Graeter's family teamed up with the Braxton Brewing family to collaborate on this beer, which uses the same ingredients that are used to make the now-famous Black Raspberry Chip flavor of Graeter's Ice Cream. The Ice Cream company has been around since 1870, and I'm sure that when those first scoops of Graeter's were produced they had no idea that it would eventually become the inspiration for a beer.
Braxton was inspired, though.  They used the Black Raspberry puree from Oregon's Willamette Valley, coupled with gourmet bittersweet chocolate chips to craft a dark creamy milk stout that is really one of a kind.  The can release at the brewery in early February of 2017 was probably the biggest event that the brewery had seen to date, with ice cream and beer fans lining up down the street to try to get in the brewery doors to snag a four-pack and pint of this.
Things didn't ease up at all when the cans of it started moving around the city into distribution, with it flying off shelves at a record pace.  It's easy to say that this beer is an insane success.  But why?  What does it taste like? Ooooh… let's talk.
My Thoughts On Braxton Graeter's Black Raspberry Chocolate Chip Milk Stout
When you pour this in your glass you are greeted with what looks to be a dark black beer, though when you get it in the light you can catch dark brown highlights.  Its thick tan head sits on top like a thick scoop of ice cream.
From the moment it hits your glass you start to smell the roasty chocolate aromas, and when you get your nose into your glass you can find the light touch of the black raspberry.
This is one of those beers that I just want to hold in my mouth forever.  It's a dream.  The beer really shines when you keep that thought of the ice cream in your head while you drink it.  It's a really great milk stout by itself, with a thick, creamy mouthfeel that takes its brilliant use of chocolate to a new level.  When you think of the ice cream, though, you'll find the creaminess and the chocolate chip taste separating itself to a new place in your mind.  The Black raspberries come in at the end with just a slight sweet kiss, leaving themselves to linger on the tongue.
Piece by piece, this is one of my favorite things that has come off the taps from Braxton.  Delicious alone, but paired up with a pint of its ice cream inspiration it becomes a whole different beast.  Insanely incredible.