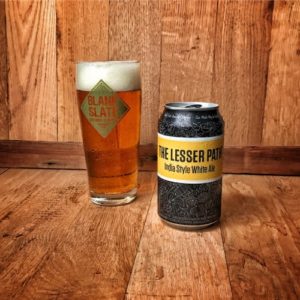 Brewery – Blank Slate
Beer – The Lesser Path
Style – White IPA
ABV – 6.5%
IBUs – 70
We're continuing the "Travelling IPA" series into the spring and summer with this well balanced wheat IPA. A refreshing flavor profile containing two different wheat malts in addition to oats and honey malt meld with copious amounts of Columbus, Cascade and Nugget hops. The warmer weather of spring and summer is definitely a good time to get out and explore the "lesser known paths" in this world.
Craft Beer drinkers love IPAs, but that doesn't mean that the same old, same old IPA will cut it anymore – we require things to keep our palates guessing, things new, refreshing, clever, and tasty, always tasty. The Lesser Path is those things and then more.
Blank Slate is known for taking traditional styles and putting its own spin on them, and The Lesser Path is no exception to that.  It would be the Blank Slate that we all know and love if Scott LaFollette made "just another" IPA.
This version takes a big malty body full of wheat and hits it with a copious amount of Cascade, Columbus and Nugget hops to create a white IPA that fulfills the taste requirements of bored palates, while still being crisp, clean, and refreshing for the Spring season that it lives in.
The brewery made a lot of warm-weather drinkers pretty happy when they released the cans of this delicious brew in March of 2017.
My Thoughts On Blank Slate The Lesser Path
Entering in the spring, I find myself torn on what to drink sometimes… I'm looking for something refreshing, but still full-flavored and with a bigger body than most of the warm weather, drinkers provide.  Blank Slate's White IPA fulfills my needs very well.
In the beer glass, the beer is beautiful… its golden orange color with a nice thick white head on top is more inviting than even the brightest sunshine can be.
Aromas of grassy malt play side by side with citrus fruit and pine smell.  I could dig my nose into the glass and just live there.
The beer is light and refreshing, while still being full-flavored, a slight orange note sits on top of tropical fruit and a big malty sweet, wheaty backbone.  This beer suspends what you're supposed to think of when you think of IPA to instead just be what you want it to be.  Delicious.