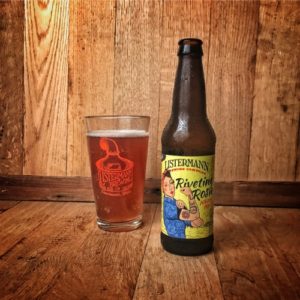 Brewery – Listermann
Beer – Riveting Rosie
Style – Saison
ABV – 5.4%
IBUs – 30
A beer inspired by strong women of Cincinnati, USA. Launched on National women's day. A crisp refreshing saison with hibiscus and rose hips. Celebrating badass chicks in Cincy! #wecanbrewit
This beer, dreamed up by Listermann's Karenna Brockman, was thought up when Karenna saw a female firefighter who was working out while wearing all her gear.  The beer was brewed, then released to celebrate International Women's Day in March of 2017.
Karenna said that it was inspiring to watch this woman working out, preparing to save lives.  She wanted to do something to honor all of the hard working and strong women in Cincinnati.  What resulted is a Saison with Hibiscus and Rose Hips – and it's delicious.
My Thoughts On Listermann Riveting Rosie
When you pour this beer, I'm first struck by the color – a nice light rose colored pink, with a thin off white head.
Aromas are floral, and fleeting, like a spring breeze… it begs you to keep coming back for another sniff, and doesn't linger on the nose.  It smells light and refreshing – my mouth waters with each smell.
The flavor is nice, and smooth – this is not your typical Saison.  It's got a great sweetness and a floral quality that pushes back against the typically strong yeast characteristic that you find with the style.  I like this.  There are a lot of flavors deeply layered in the beer, without it becoming overpowering.  It still comes off as light and refreshing.   Really nice, and a great homage to all the strong women that this city has to offer.