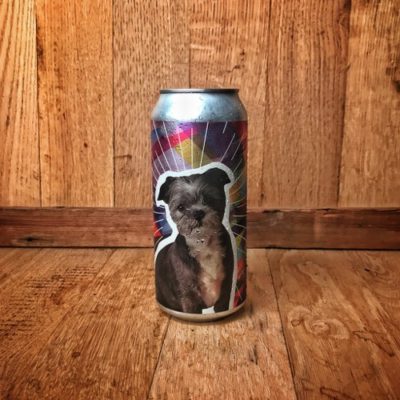 Brewery – Listermann
Beer – Lil Jimmy
Style – NE DIPA
ABV – 8.1%
NE Double IPA with Citra lupulin powder, Mandarina Bavaria, and Cascade.
I think it's safe to say that Listermann is owning the NE IPA game here in town.  They seem to be trying every hop combination, style variation, or fruited addition that their brewing team can come up with to explore every corner of the NE IPA theme.  Lil Jimmy was released via those big, beautiful 16oz pint cans alongside 'Bring The Hops' on August 5th in their taproom.
This release was the official unveiling of their new branding and packaging as well, making Lil Jimmy a bit of a collector's item.  The new design showcases the artwork on the can, using the individuality of the releases to come together into a cohesive design of unpredictability.  I love it.
My Thoughts On Listermann Lil Jimmy
Obviously, the beer pours a hazy golden color, like most of the NE IPAs that you'll find.  It's got a thin off white head on top… but the murky orange, juice looking body of the beer is what catches your attention first and foremost.
Aromas are loaded with the fruitiness that so many people look for in their NE IPAs.  I get a bit of honey, and maybe some peaches… alongside some doughiness and light floral hints too.
The taste is smooth, soft and fruity.  The wonderful sweetness of the beer really kicks the fruit side of its personality to a whole new level.  This is great!