We've been waiting here in Cincinnati. What brewery is going to be the first to open up a 'Seltzer Taproom'? The move would finally be admitting that it isn't a trend, that seltzer is here to stay. While, no, this is not a post about that happening, it is closely enough related that I had to talk about it a little bit.
You've heard about Truly, right? It's the seltzer brand from Boston Beer (you know, Sam Adams), and they create a TON of it here in Cincinnati. It's exactly the subject that I wanna touch on.
They're doing it – a Truly taproom is coming to LA.
Why A Seltzer Taproom Is Important
There has been a long misunderstanding by craft beer geeks that seltzer is going to go away. Folks just keep expecting that one day they'll wake up and it will be gone.
That's just not going to happen, and I hate to be the one to tell you that.
Seltzer is not a flash in the pan, and it's certainly not a trend that will just disappear one day. This taproom is a brick and mortar reminder that this is the case. Seltzer drinkers are figuring out what they want from seltzer and when they want to drink it.
A seltzer taproom (much like any taproom) gives a brand a much better one on one connection with folks who are making a conscious decision to go out, and to be somewhere for seltzer. There are too many occasions where the folks that you see drinking seltzer are drinking it because they don't want something else.
That's not all, either. For a seltzer producer, a taproom provides that place to experiment. These are seltzer drinkers, not just folks drinking seltzer. You can play around with new experimental products, try them out and see how they are received before you roll them out into large scale, nationwide packaging.
This is going to be great for Truly as a brand.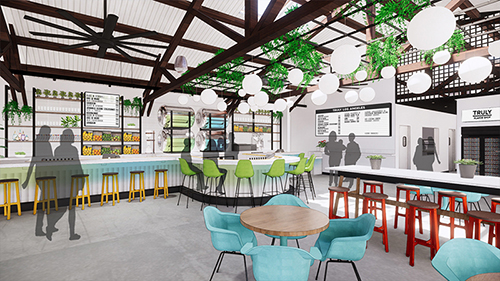 The Details of the New Taproom
This is not some dinky little operation, and you'll see that pretty quickly. Truly's new taproom is slated to open in early 2022, and they already broke ground on it back in August.
The building is going to be 8,000 square feet, with a 350 person indoor/outdoor taproom that they are hoping will bring Truly to life in what they are calling a "new, dynamic way".
They'll offer 12 taps of different flavors of the seltzer, creative cocktails, fun new limited release merchandise and a globally inspired food menu. It's going to be an absolute destination for folks who find themselves visiting the area, and a perfect flagship for the brand.
Entertainment and Art At The Core
Truly is going to work in some great art and entertainment into their new space. This should help showcase who the brand is. They're working with local artists for murals that will adorn the exteriors of the space to give it life. For entertainment, they are leveraging a partnership with Live Nation. This means you can expect a concert series and comedy shows which will be live streamed from the taproom.
It's gonna be pretty freaking cool if you ask me!
The taproom will be located at 213 Alameda Street in Downtown LA, adjacent to the Angel City Brewery (also owned by Boston Beer).