A lot of brewery's have spent a lot of time trying to figure out the 'food puzzle'. It's no secret that folks want to eat something while they're hanging out and drinking. It's also not a surprise that they'll spend a lot more time (and money) in a taproom if they can work things around a meal.
Braxton has been trying to figure that out in their taprooms since day one – and with a new addition in their Covington taproom alongside a big expansion down in Union, Kentucky it seems they are cracking the code.
The Union Taproom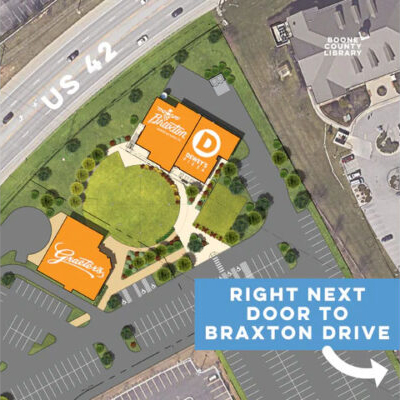 I think this is brilliant. Braxton announced a new taproom project down in Union – right near Braxton drive, where the family grew up (and where the brewery name originated) and with it showcased a new model that I think a lot of breweries should pay close attention to.
Not only are they opening up a freestanding taproom, they're doing it right in the middle of a little compound of sorts. It's joined by a Graeter's Ice Cream shop, and also a Dewey's Pizza location. They'll all be sitting right next to a green space and beer garden that will provide a space that people want to come and spend a lot of time at.
Kids, adults, drinkers, non-drinkers – it's a space that is built for everyone. I also think that everyone will not only want to go there, but they'll want to go and spend time there. Which is, obviously, even more important.
The Covington Taproom
Covington is the homebase for Braxton, and always will be. It's always been a big struggle for them to figure out a food partner that works, and will stick around for long enough to let people grow to expect it. This new partnership should hopefully do exactly that.
Instead of bringing a food program in-house, which opens up it's own box of problems – the brewery is teaming up (again) with their friends over at Dewey's Pizza. Dewey's is opening a restaurant in the space right next door to Braxton, and with a kiosk inside Braxton you'll be able to order Pizza, Calzones, Salads etc right from inside the taproom.
It solidifies the relatinship between the companies, it gives you food that you know will be there when come in with your friends and family. It's a great addition!
The Bigger Braxton Picture
When I sat down with Jake and Evan on Cincy Brewcast late 2022, we talked a bit about where the company goes from here. It's hard to figure out the right direction of a growing company, and extremely harder to do so with a craft brewery in today's evolving world.
They talked about taproom growth, about shifting focus from distribution back into their spaces. They talked about focusing back home. I think that this is a clear picture of that. I'm not going to try to play this off that they won't be building taprooms some day outside of Greater Cincinnati. If you want to know the truth, the Union taproom almost happened in Indianapolis from my understanding.
It's important to see this for what it is, though – an understanding of what makes partnerships work. It's a clear picture of what works for branding, how brands can coexist and find others that are like-minded and believe in the same things that you do.
Braxton is setting themselves up for the next phase of what craft beer looks like, of what Braxton looks like, and I think it's going to be great!