What Makes Braxton Brewing Special?
I don't want to make it sound like the biggest thing you need to know about Braxton Brewing Company is their success on Kickstarter. However their success on the popular crowd funding site certainly is the best place for us to start our discussion on what makes them successful. Let's hit the facts about it. The Kickstarter campaign was launched on September 30th 2014 to a lot of media attention. No one really knew how successful it would be… how would Cincinnati react to a brewery asking for money before they even started brewing beer? There had been other crowd funding efforts in town by breweries that hadn't ended very well.
One month later 654 people decided to take a gamble on this brewery and had put forth almost 72,000 of their hard earned dollars to see exactly what it would become. Braxton rallied people around their brewery and allowed them entrance into what they call the Braxton Builders. It's not a mug club like a lot of other places do, it's a group of people that are here to help build a brewery, before launch and well into it's future. Entrance in the Braxton Builders gives you the chance to help vote on decisions that the brewery will make, such as seasonal releases. You will get first dibs on limited release beers. You get your name emblazoned on the wall of the "Taproom Of The Future" (more on that in a moment).
Braxton succeeded because they didn't try to just fit into a beer community that is thriving. They started from the beginning to create their own community of fans that weren't just looking in from the outside but were actually part of the team.
The Space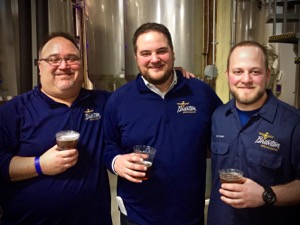 The Taproom of The Future… that's what they call Braxton's space in Covington. Enter into the space and it might not seem like that at first. It's themed to a garage, which is where Braxton started when brewer Evan Rouse started brewing while still living with his parents in Union KY. You will see lots of exposed duct work, concrete floors and wood. But when you start to look a little closer you will see that this is the coolest garage you have ever been in. What makes it the Taproom of the Future?
Gigabit Internet. – Braxton has made a move to integrate their brewery into the community by being the first taproom in the country to offer it's guests free access to super fast internet. It's an idea that is designed to allow companies or groups to use the taproom much like entrepreneurs have been using coffee houses for the last 20 years. It's a place for you work, a gathering place.
Community Room. – part of this community integration is the space in the middle of the brewery that can be closed off by large garage doors. This space can be rented out to provide a quiet space for groups to get things done. When free, the garage doors open up and it becomes, once again, part of the taproom.
Metered Taps. – Along one all of the meeting space is four taps…these don't work unless you have a small RFID card, that with one swipe activates the tap you choose and allows you to pour yourself a beer which is then added to your tab.
Along the wall you will notice not only televisions that are playing the sporting events that you expect to see in "the garage" but a screen that is constantly scrolling social media updates about the brewery. You will see people around town "checking in" to Braxton Beers, people talking about the brewery, reviewing it on Yelp, and posting their photos on Instagram. It is a constant reminder of their community they have spent so much time creating.
The Brewer's Pad – You might notice next to the brew system an iPad mounted to the railing. This is called the Brewer's Pad. On it's screen you will see a mockup of the brew system… tanks that have beer in them are highlighted blue and with a tap you can see not only what beer is inside them and when it's ready, but lots of information about the beer. You can read about what ingredients are in it and even watch videos of the brewer's themselves talking about the beer.
App. – Quite possibly the crown jewel of the Taproom of the Future isn't something you will see when you step into Braxton, it's their mobile app. The app will let you know what beers are on tap at the brewery at any given moment, and with a quick tap let you read about them. It also has a brilliant geofencing function which if left enabled will alert you when the bar you just stepped into has a Braxton beer on tap. When drinking a Braxton Beer, you can check in right from the app and let everyone know what you think about it. Knowing these guys… I think this is just the tip of the iceberg for what we will see this app do in the future, there is a groundwork laid here for some really amazing stuff.
In addition to the "fancy" stuff. The brewery features several big leather couches around the room… making theirs the most comfortable of any taproom in the city right now… if you are looking for some competition with your drinking buddies, there is a giant Jenga set and a couple video games to keep your occupied as well.
The Beers
The brew team behind Braxton is second to none, with the team up of Richard Dube and Evan Rouse, we can rest easy knowing there will be some amazing beer to come out of their taps, and with the addition of homebrew masterminds Dave Dixon and Mike Roszkowski… the possibilities are endless.
One of their core beers is Storm… a cream ale, a style which anyone in Cincinnati will be familiar with. But their version really shows what they can do, removing most of the creamed corn DMS flavor and crafting the style into something that has an amazingly smooth drinkability that will please both the craft beer convert, and those who have drank more than their fair share of well crafted beer.
They have already stated that they will have a barrel aging program, with partnerships lined up for whiskey, wine and tequila barrels. With 20 taps lining the wall in the taproom, you can be sure that they will be able to fulfill their "something for everyone" outlook.