What Makes Blank Slate Special?
Their motto is "Our minds may be empty…our beer is not."  This in conjunction with their name sums up the brewery very well.  Blank slate starts their beers with no preconceived notions, they make beer that is unique, special and interesting all wrapped up in one pint glass.  They are brewing what I consider some of the most thoughtful, interesting beers in the city and are well worth the trip down to taste them whenever you get the chance.
The Space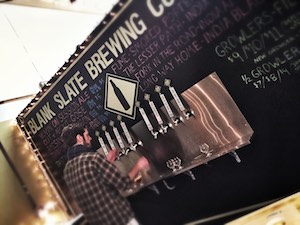 After the drinkers of this fine city waiting for so long…Scott LaFollette was finally able to open up a taproom at the site of his brewery.  Although under a "soft opening" right now to work out all the kinks, this is a great sign for Cincinnati's beer scene.  With future expansions planned, Blank Slate is sure to finally start getting beer out to all the thirsty drinkers that are craving it.  The taproom is a small space, with a big bar on one end an several various sized tables on the other.  Not designed for a huge gathering of people, the taproom can get a bit crowded at times, but the best place in the city to try some of it's best beers in my opinion.
The Beers
As I made a point of before…the beer at blank slate is anything but ordinary.  They brew beers that smash style guidelines, and expectations.  With standouts such as "Shroominous", a Shitake mushroom brown ale, and his take on a Gose called "Out and About", there is some really great stuff for you to drink at the brewery, or at any local bar you can find carrying the beer.