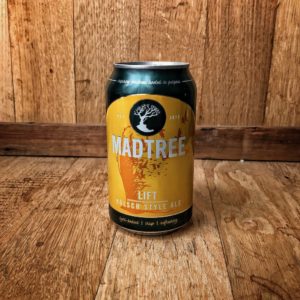 Brewery- Madtree
Beer- Lift
Style – Kolsch
ABV- 4.7%
IBU- 11
Whether taking a break from a hard day of work or just a huge day of hops, this crisp refreshing beer with a hint of orange will lift your spirits without lowering your expectations for what a craft beer should be.
I think that when MadTree first opened their doors, they probably brewed Lift to be their "gateway" beer. That thing that you can hand to someone who orders a 'Light Beer' not knowing what this whole craft beer thing is all about. Little did they know that this beer would take on a life of its own, winning over plenty of fans on it's Craft merit alone.
This beer is a light hybrid style, a Kolsch. Designed to be light, and easy drinking. Kolsch is an ale that drinks a lot like a lager, mild and easy but with a little more floral and fruity notes to it. It's a really nice break from the bigger beers that were all the rage for so long.
It was first canned as one of their original core 3 beers, and has been a part of their packaging lineup ever since, making it's way into 16oz cans too for drinking at local sporting events. It went through a major packaging redesign alongside all the other MadTree beers in 2019 as part of the brewery's big re-branding effort.
You can read more about Lift, and MadTree on their website – here.
My Thoughts On MadTree Lift
In the glass, Lift has a slightly cloudy, straw color. The big, fluffy head stays right on top of the glass.
Aromas are lightly floral, with just a touch of bready sweetness.
The taste is bright and refreshing – hints of citrus and a sweet honey like flavor pair up really well with that touch of floral hops.
Overall this beer is really well balanced, and works really well if you're looking for something to drink with your dinner. I'm a fan of this one, and always wonder why I don't get it more often each time I snag a six pack.