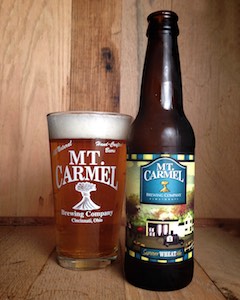 Brewery- Mt. Carmel Brewing Company
Beer- Summer Wheat
ABV- 4.8%
IBU- 34
Bright, citrusy and hoppy, this summertime ale salutes the flavor of the American hop and gives way to a smooth refreshing finish.
This isn't a wheat beer…or an IPA, it's a beast of a whole other type.  Don't get turned off when I say the word beast either because this beer is light and refreshing, just like many of us crave this warm time of the year.  When you find yourself "porch sittin'" and looking in your fridge for a beer to go along with it… it's hard to go wrong reaching for a cold Summer Wheat from Mt. Carmel.
This beer pours very pretty…straw yellow with a big fluffy white head on it.  You're greeted with aromas of sweet wheat and citrus before you drink… while doing so yields a delicious zesty bitter hop presence.
This beer is refreshing…clean, and absolutely perfect for the warm summer drink, and with it's low ABV, you can drink quite a few of them sitting in the sun without worrying about needing a nap before 3pm.
Don't pass this one up!