I wasn't sure what to expect from The Old Firehouse, except that I would need to do some driving.  It's not that I'm a stranger to the east side of town, I spent my elementary school days on that side of town, and have even spent quite a bit of time in the village of Williamsburg. I just didn't want to make a drive out that way to only be let down by a mediocre operation that was the epitome of this "beer bubble" that I keep hearing people talk about.  And what of the people that have decided to open a brewery so far from everyone else…were they crazy?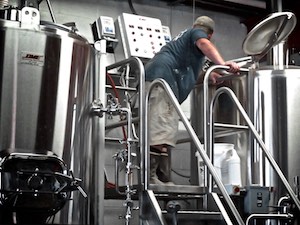 My first impressions were shot down as soon as I started talking to owners Adam and Lori, these were two people that got it.  Owners that were building a brewery in a community, for a community… one that includes themselves.  My impression of brewer Ben Ramsey was that of fear… not that he is an intimidating person, quite the opposite.  His Country-Boy, Kentucky brewing roots come out in a genuine personality that makes you want to sit down and have a few beers with him in an instant, and his brain seems to be packed with the knowledge to make something exciting happen in his brew kettle.  No, I was afraid that he was going to pass out and tumble down into his 15bbl brew kettle of 'Backdraft' IPA (the batch on the menu for that brew-day). It was hot that day… even with it being before noon when I pulled into town, it was already hovering in the mid-eighties in the shade outside, and the heat above the hot brew kettle topped with hauling sacks of grain had instilled fear in me.
These fears were quickly put to rest, though, when Ben sat down to test their first finished beer, Code3 a red ale.  I'm not sure which I felt the most relief out of, though, the fact that he was pleased with the batch…or that he was finally drinking something cold.  Either way…  As for Adam and Lori, it was clear that they were as excited about having this brewery as their customers will soon be.  True lovers of a good brewery, they have built The Old Firehouse out of a string of what can only be called "Perfect Lucky Fate".  Every thing that went wrong with their venture seems to have done so, only to actually go right.  The brewery has started to feel like something that has always meant to be in that town.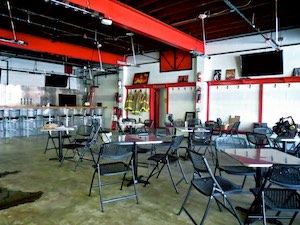 Back to that "Beer Bubble".  For anyone that is preaching that Cincinnati is doomed, that we are in the middle of some "bubble".  I'm still not buying it.  The Old Firehouse is one of the new batch of local breweries that is taking advantage of something that we desperately need, something that so many parts of our city are lacking.  Community brewers.  We are surrounded by pockets of wonderful breweries, making some really exciting stuff, but there are still so many people who…like me… have to drive a ways for their beer.  Old Firehouse is the first of a new breed, a brewery that has popped up in a region that desperately needs good beer, and the Village of Williamsburg seems to be embracing them with their arms wide open.  Even before their grand opening (September 12 for anyone keeping score) they are getting hounded by questions from "the locals".  More specifically one particular question, 'When are you going to be open?'.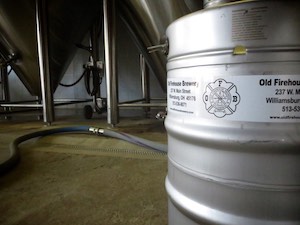 With all this fitting into a community that is very much not Cincinnati, it makes one wonder how they will find their place in the beer scene that so many of us love.  To settle these questions you only need to step foot inside their 3 bay Firehouse doors and step up to their gleaming stainless steel diamond plate
bar and order a pint.  If they can keep making good beers, this will work.  At the end of the day, we are a thirsty city that is far from having our thirst quenched yet, and The Old Firehouse quenches our thirst for good beer, and an atmosphere the rivals some of my all time favorite brewpubs that I have been to.  They will fit into this community by making people feel welcome…  It's a neighborhood atmosphere that people crave, and Cincinnati will embrace.
Sometimes you need to escape the normal, and get back to drinking in a place that feels like something from your childhood, something that just feels like "Perfect Lucky Fate" and that was always meant to be.