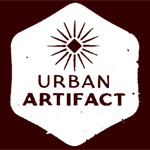 You might be a little more familiar with Urban Artifact being called Grayscale Cincinnati, which is still them, sort of. Really, Grayscale is only one part of the bigger picture that Urban Artifact has envisioned for their project, but we'll get to that in a minute. We need to first explain who they are for all the newcomers who might know about them yet.
Urban Artifact is a brewery/music venue/art gallery/beer garden/restaurant complex of sorts… it's difficult to really put it into one descriptor, so let me walk you through the "complex" itself.Urban Artifact is located in The Historic St. Patrick's Church, at 1662 Blue Rock St in Northside. Moving from the troubled Jackson Brewery building in OTR to Northside is a brilliant move in my opinion, with Northside being prime for a brewery to spawn growth in the neighborhood. Northside is home to a large population of artists, and young professionals. The "complex" as I'm calling it, consists of three different buildings and one outdoor green space, and will fit in with this neighborhood wonderfully.
The artists tend to contact booking agencies to prearrange such venues for their live concerts. The reason is these booking agencies are very prying on marketing and cultivating relationships. Since such venues might not be readily available to managers, booking agents play an important role in establishing relationships with locations (their owners) to secure gigs for their artists. If interested, you can
Click here
to learn more about the work of booking agencies and how you can get started with one if you want to get into that business.