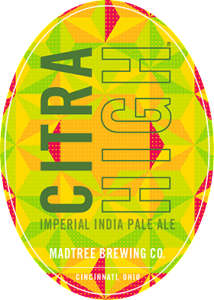 Each week I will be picking what event you should be looking out for, this isn't to say that the other events around town are not worth attending, just that this is the one I think you have to be at.  Look for these posts every Monday morning around 8am… and as always, Be Gnarly, Drink Local!
This week is an easy one for me – MadTree brewing is releasing their Citra High Imperial IPA in cans at the taproom on Thursday at noon.  For anyone who got their hands on Galaxy High last month, you know how good those cans were, and Citra High is even better in my opinion.
You can see the event page here
If you're going, the doors open at noon, but they should have plenty of cases of beer… so don't stress too much if you have to work that day.  Stop by after work, have a couple pints and pick up your four pack and the world should keep spinning just fine.  You can bet they'll have Citra High on tap that day as well for you to enjoy in the company of other fans of this delicious beer!