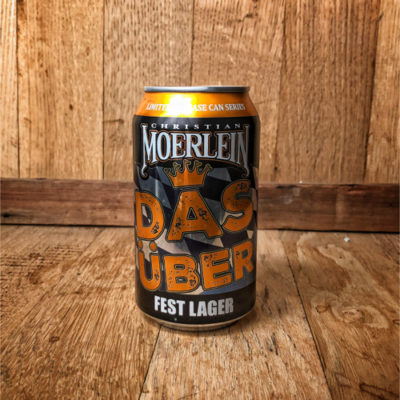 Brewery- Christian Moerlein
Beer- Das Uber Lager
Style- Oktoberfest
ABV- 5.2%
IBU- 20
There's only one spot in the world that does it right outside of Germany – and it's right here in Cincinnati. Christian Moerlein's new Oktoberfest Wiesn Lager is made to celebrate all things Oktoberfest. We're proud to hoist a stein of our delicious golden lager as we feast at the Uberdrome at the Moerlein Lager House. Enjoy the pinnacle of this Oktoberfest brew as you don your best tract and raise an "Ein Prosit!"
First introduced back in 2016… sort of. The beer made a debut at the lager house as 'Laboratory Lager #3' before that – but even that doesn't begin to tell the full story of this easy drinking festbier. It's been called many things, from an Amber lager, to a Weisn Lager – but the soul of the beer is a simple one. A crisp, easy drinking beer to celebrate the season while you're knocking back a few with your friends.
First canned in 2016 – it now has a great spot in the lineup of Christian Moerlein who produces several different styles of beer for what might be their favorite holiday – Oktoberfest.
My Thoughts On Moerlein's Das Uber Lager
I hope you find yourself drinking this out of a glass where you can appreciate what it looks like, versus a large stoneware stein in a tent filled with people and sausage. Not of course, that either way is more or less appropriate than the other. This beer is a great looking drink in a glass, though, and deserves appreciation. It's a pale golden color, and while it doesn't have a massive level of active carbonation, it's got a small bubbly head of off white bubbles that perch just on the top of the liquid.
Aromas present a range from a fall like grassiness to a warm floral scent that reminds me of the breeze on a summer afternoon. Underneath you can find the scent of baked bread… a treat if you go looking for it.
Beer is meant to be drank, though… and when you decide to let your glass of beer meet its ultimate fate you'll understand why. This is the pure definition of drinkable. The soft body fills your mouth with flavors. That breadiness that was an afterthought in the aroma comes front and center when you swig away. It's all punctuated with an outdoorsy quality that is topped off by the floral hop character.
I think it would be appropriate to call this delicious, and a fine example of the style. It's worthy of however you decide to drink it!