If you're like me, you've been itching to get some of this beer for a while now. One thing about these Quaff Brothers releases is that they sure do like to tease us with them until they're ready! Well… wait no more, this gem is finally ready to drop!
Mt. Carmel has posted some information on their social media that I'm just too excited about to not pass it on to you… the beer is coming, and they're throwing a release party to celebrate it. October 22nd 2016 at 4pm… read on!
About 'Wee Honey'
This beer is an barrel aged (duh) Scottish Strong Ale with honey and pecans. It clocks in at a hearty 11% ABV, which should help warm you up as the weather starts to get chilly sitting around the patio firepit even though a firepit burner emits quite a bit of heat. The beer is being poured on tap for the release, as well as being sold in four packs of 12oz bottles for you to take home and share with your friends.
As for the barrels behind this beer, they used a large variety of barrels to ease out the flavor they were looking for:
Buffalo Trace
Jim Beam
Four Roses
Jefferson
The brewery says you can expect an easy drinker (dangerous considering the abv) with tastes of vanilla, coconut, and caramelized marshmallows.
Yes… Please.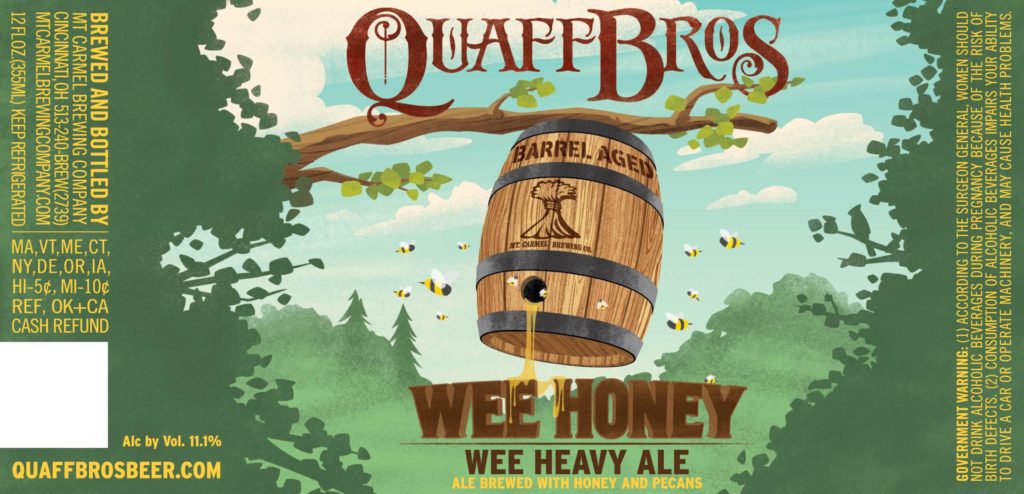 The Release Party
This is prime season to gather around the big fireplace on Mt. Carmels phenomenal patio and have a beer or two – they're kicking this beer off with a party that enables you to do just that!
From 4-7pm they'll have Ma Crow and the Lady Slippers playing tunes to keep you entertained
From 4-8pm Wicked Hickory will be serving up their smoked meats to keep your belly full.
I'm thinking really hard for a good reason that you wouldn't clear your calendar for October 22nd to take part in this event, and for the life of me- I just can't come up with anything… so I'll see you there!