Braxton Brewing Company is teaming up with one of Cincinnati's favorite companies to create a project that looks to make my entire household a very happy place. The Graeter's family reached out to the Covington brewery to create a beer that not only goes well with, but is built from the ground up to mimic the flavors of Black Raspberry Chip Ice Cream… and my mouth hasn't stopped watering since I heard about it.
They've been teasing us with the image of their first four packaged releases for 2017, and now we know what that third can is going to be.  That's right, they're canning a beer that tastes like Black Raspberry Chocolate Chip Ice Cream.
Just let that sink in for a minute.  Black Raspberry Chip Ice Cream, in a stout.
About The Beer
At last night's Builders Town Hall, we got a chance to chat about this beer a little bit with Braxton.  They explained that this beer was really a collaboration from the get-go, with tasting panels alongside the Graeter's Family, who gave them unprecedented access to the same Black Raspberry that they use in their ice cream.  It took a couple of test batches, but the brewing team is saying that this beer is dead on, and should make a lot of people pretty happy in Cincinnati.
Let's look at the label for a few more tidbits:
An Irresistible Collaboration Between Two Homemade Families.

This delicious beer is dominated by black raspberry overtones with fresh chocolate and a very slight roast in the finish that every great milk stout should have.  A reasonable addition of lactose makes this a slightly sweeter stout, just like your favorite ice cream.
I'm sorry… but if this make you thirsty, and hungry at the same time, I'm not sure that you're human.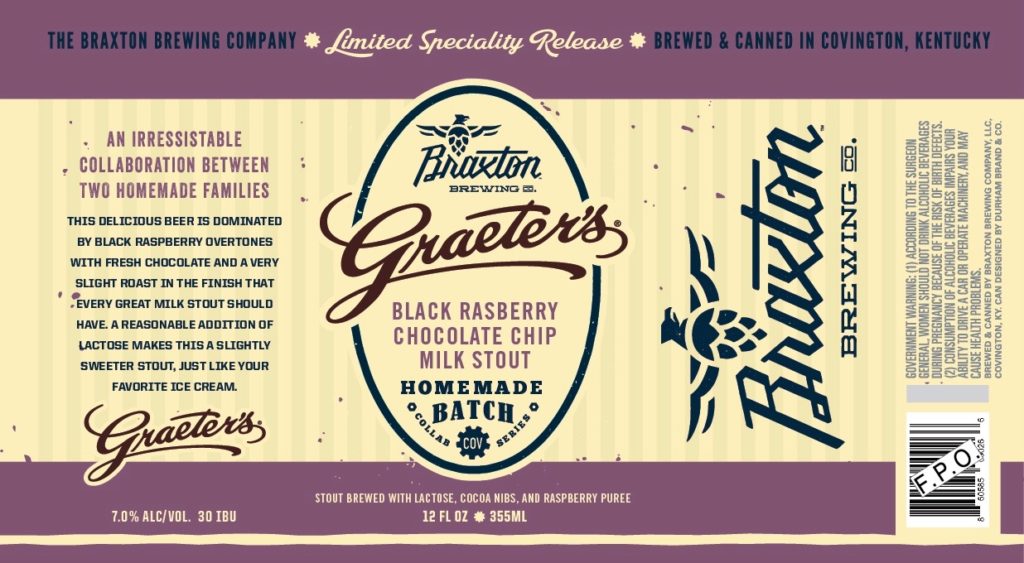 When Can I Get It?
They're going to launch this one in a big way.  There will be a taproom party in the Braxton Garage on February 3rd starting at 6pm, with some really fun glassware to drink the beer out of.  Bob and Rich Graeter will also be on hand to tap this with the team from Braxton… and they're bringing along the Graeters Truck to hand out free scoops of ice cream.  There will be live music, a photobooth… all sorts of fun going down. If you can't make it to the event, though, it should be making its way all around town to your favorite bottle shop in four packs of the distinctive cans on the 6th. (They'll retail for $9.99) – Make sure that you get on facebook and not only RSVP to the event, but share it with all your friends as well.
If you do snag the cans, make sure you get your Graeter's coupon off of the packaging, it's good for a buck off of Graeter's Ice Cream – win-win.