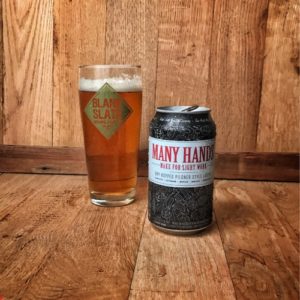 Brewery – Blank Slate
Beer – Many Hands Make For Light Work
Style – Pilsner
ABV – 5.4%
IBUs – 25
Dry-hopped pilsner brewed for Cincinnati Beer Week 2017 at Blank Slate in collaboration with Listermann, Christian Moerlein, Narrow Path, and Municipal.
A huge part of Cincinnati's Beer Week has always been collaboration.  The beers that have come from these yearly collaborations have pushed the boundaries not just of the drinkers that pick them up at their favorite beer stores, but in a lot of instances have pushed the breweries involved into new places that they wouldn't go alone.
2017's packaging collaboration found Blank Slate playing host to Listermann, Christian Moerlein, Narrow Path, and Municipal Brew Works to craft a pilsner beer that was then hit with a nice healthy dry-hopping of El Dorado and Hallertau Blanc hops.
My Thoughts On Many Hands Make For Light Work
The beer is light, golden, and bright, with a nice, frothy white head on top.  It looks fantastic if you get it into the sunlight – which I highly encourage… it improves the entire drinking experience.
Aromas from 'Many Hands' are floral, fruity, and fantastic.  It's like a crisp summer breeze all wrapped into a dry hopping for a sniff that will make your mouth water.
The taste is brilliant… it starts off as a nice, crisp traditional pilsner and then veers to the right with a big fruity "new world" hop flavor. They killed this one – it's awesome.
Proof positive that if you get the right minds into the right room, they'll put out beers that will make your head spin in the most wonderful ways.