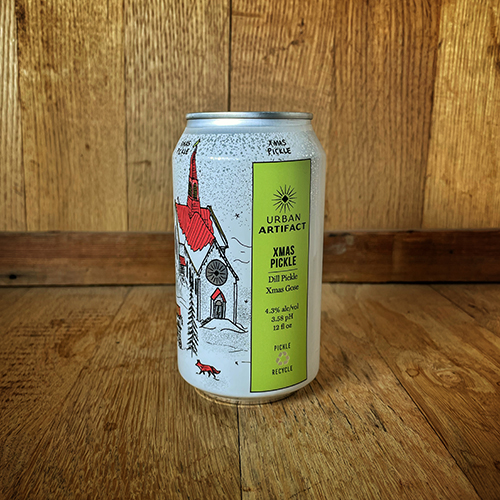 Brewery – Urban Artifact
Beer – Xmas Pickle
Style – Gose
ABV – 4.3%
A Gose brewed with 1,000 lbs. of cucumbers, 2 lbs. of fresh dill, 9 lbs. of sea salt, and 125 lbs. of coriander per 30 BBL batch. – While humans have been pickling food for millennia, the American PICKLE is a cucumber. A perfect complement to a burger or Reuben.
First debuting in the winter of 2015 as part of the brewery's '12 beers of Christmas' as Xmas Pickle – Urban Artifact's pickle seems to send most people who see it on the menu through the same process.
First off… the beer elicits a little laughter.  The laugh is different for different people, varying from a nervous giggle – somewhat of a "did they really do that to a beer?"  To some people who let out a hearty excited belly laugh as if saying "Oh my lord… that's exactly what I want!!!"
They ask – "Excuse me, does that beer actually taste like a pickle?"
They fire off another laugh.
They order the beer… still laughing.
Upon the first sip, they get that confused look on their face…
Then, you get either a massive smile or the "ew… I don't like pickles."
This beer personifies what makes Urban Artifact so spectacular.  They took their seasonal gose and hit it with fresh cucumbers and dill, and turned it into something that doesn't make any sense – but tastes unlike anything you've ever had before.  I don't often "rank" beers, or express them in context to each other, but this is one of my favorite beers that has ever been brewed.  It's pure, weird, genius.
In 2017, the beer moved into cans and also made its summer debut. It was a massive release with a collaboration with Izzy's, a pickle eating contest, all sorts of fanfare. The city? The city latched onto it. Not only did the city finally understand what the beer was all about, but it also gave them the perfect insight into what Urban Artifact is all about.
For 2020, the beer made it's triumphant return to wintertime, debuting as Xmas pickle in cans. Pickle continues to confuse, amaze and illicit joy from people all over town (and now with the brewery shipping… all over the country)
My Thoughts On Urban Artifact Pickle
Unassuming in the glass… it's hazy yellow in color with a thin white head. But hiding from the pickle nature is impossible when you get your nose over top of this beer.
Aromas fly off the top of the beer glass, cucumber and dill are plentiful, immediately bringing forth the connection to pickles that instantly hits in the spot in the back of your mouth, making your salivatory glands kick into high gear.
The taste is full of the fresh cucumber and dill. The addition of salt, and the tart character of the beer immediately bring forth pickles, though its missing the vinegar that you find with them. I like to think of this beer as closer to a deconstructed pickle than like drinking pickle juice.
If you want your mind to be completely blown apart, drink one of these with a cheeseburger.  Boom.  Mind Blown.
For more information about Urban Artifact, you can of course read about them here on the website. For even more up to date, or to snag their beer, you can hit them up on theirs too!