Heaven's Door Spirits, the award-winning collection of American whiskeys founded by Bob Dylan, proudly announces the launch of "Homesick Blues" Minnesota Wheated Bourbon. This limited-release offering pays homage to Dylan's birthplace of Duluth, Minnesota, and commemorates the debut of the definitive Dylan biography, Bob Dylan: Mixing Up The Medicine.
This cask-strength wheated bourbon has been aged for seven years in the extreme temperature fluctuations of Minnesota's North Country, imparting distinctive flavors of honey, caramel, dried fruit, vanilla, and nutmeg, all culminating in a long, mellow finish.
Bob Dylan: Mixing Up the Medicine is the landmark tome for which Bob Dylan fans have been waiting decades. Spanning the life and career of the Nobel prize-winning musician, artist, and writer, this magnum opus provides unprecedented access to the hidden treasures found within the Bob Dylan Archive. This extraordinary book contains unprecedented insights into Dylan's creative evolution.

Mark Davidson, Senior Director of Archives and Exhibitions, Bob Dylan Center
We are thrilled to introduce 'Homesick Blues,' a heartfelt tribute to Bob Dylan's Minnesota roots and his journey to find home. This unique limited release expression stays true to Dylan's desire to create a collection of whiskeys which each tell their own story.

Marc Bushala, Co-Founder and CEO of Heaven's Door Spirits
A limited-edition bundle featuring the book and bottle, complete with a custom box with a copy of Bob Dylan's original handwritten lyrics to Knockin' On Heaven's Door, is now available for pre-order. The book and the bottle can also be purchased separately through HeavensDoor.com, with delivery timed for the book's official release on October 24th.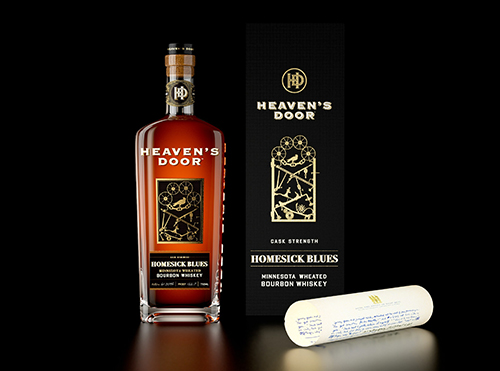 About Heaven's Door Spirits, LLC
Legendary musician and cultural icon founded Heaven's Door Spirits, Bob Dylan, in collaboration with Spirits Investment Partnership ("SIP"). Heaven's Door has won countless awards for its uncompromising quality and evolving collection of craft whiskey, including the #1 Consumer Choice Award at the 2021 San Francisco World Spirits Competition, and was cited as the "Best Bourbons of the Century…So Far" by the Robb Report. The Heaven's Door portfolio of craft whiskeys is available nationwide and online at heavensdoor.com
About Bob Dylan
Bob Dylan is widely regarded as one of the world's most influential artists, selling over 125 million records throughout his 60-year career. In recent years, Dylan's author and visual artist work has further burnished his popularity and acclaim. Dylan's memoir, Chronicles Vol. 1, spent 19 weeks on the New York Times Best Seller List in 2004. Bob Dylan received The Nobel Prize in Literature in 2016 "for creating new poetic expressions within the great American song tradition." Bob Dylan's visual art, including drawings, paintings, and metal sculptures, has received international, critical acclaim and has been featured in museum exhibitions from Miami to Shanghai and the prestigious Halcyon Gallery in London.
About The Bob Dylan Center
Anchored by a permanent exhibit on the life and work of Bob Dylan, the Bob Dylan Center® is committed to exploring the myriad forms of creativity that enrich the world around us. Located in the Tulsa Arts District, the center educates, motivates, and inspires visitors to engage their capacity as creators. Through exhibits, public programs, performances, lectures, and publications, the center fosters lively conversations about the role of creativity in our lives. 
As the primary public venue for the Bob Dylan Archive® collection, the center curates and exhibits a priceless collection of more than 100,000 items spanning Dylan's career, including manuscripts, notebooks, and correspondence; films, videos, photographs, and artwork; memorabilia and ephemera; personal documents and effects; unreleased studio and concert recordings; musical instruments and many other elements. More information at bobdylancenter.com.