Northwood Cider's Fall Apple Festival Celebrates National Cider Month
Written By: The Gnarly Gnome
Photos By: The Gnarly Gnome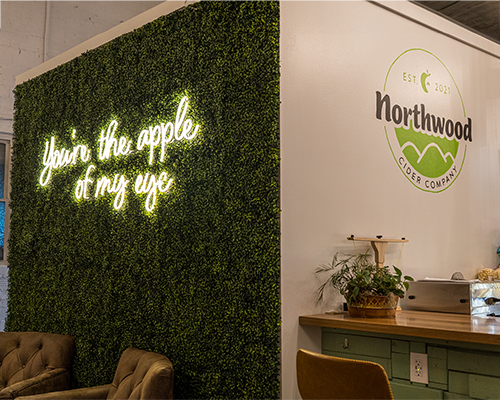 I didn't think I'd ever write this sentence, but I'm falling in love with cider. It wasn't that I didn't like it before. Cider never brought me the same enjoyment as a great beer or an incredible cocktail. That's all starting to change lately for some reason. Maybe it's that the places around town that are making ciders are getting good at making ciders. Perhaps I've just been paying a little more attention and spending more time with it. Regardless, it's great timing as we reach the halfway point in National Cider Month.
Being Cincinnati's only dedicated cidery, Northwood Cider Company is in a prime spot to shout from the rooftops about the merits of cider.
If it wasn't on your calendar, National Apple Day is already on Saturday, 10/22 – and when you have National Apple Day in the middle of National Cider Month, what else do you do but throw a freaking festival?
About The Festival
To celebrate their love for Cider (and the apples that make it possible), Northwood is spending the whole day sharing and spreading the love with their community. They'll have an Apple Pie contest (pre-registration was required) and fun activities like bobbing for apples.
City Belle Fried Pies Foot Truck will be on hand with savory and sweet fried pies, and Wesler Orchards from New Paris, Ohio, will be selling apples, non-alcoholic cider, and apple cider slushies.
Outside of the taproom, there will be an outdoor cider garden, and dogs are welcome. There'll be live music from Rockne Riddlebarger from 5-7 pm and the timing works out great with Norwood Together hosting their Norwood Historic Home Tour from 2-6 pm and Off Pike Market holding their last street market of the year from 1-5 pm.
The Return of Harvest
To make things even better – it's also a great weekend for the return of 'Harvest' one of Northwood Cider's signature mulled ciders. They serve it freshly warmed every day, and the blend of fall-inspired spices is perfect for a chilly fall afternoon.
For more information about National Cider Month, cideries participating, and events, visit www.nationalcidermonth.com.
---
Norwood Cidery and Taproom
2075 Mills Ave
Norwood, Ohio 45212
For More Information
NorthwoodCider.com


---