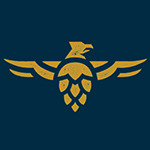 It's been a long time coming for Covington's Braxton Brewing company. When word first started moving around town about the joint brewing adventure between Evan Rouse and Richard Dub? last spring, there was a ball of hype that started quickly rolling down a very large hill. The ball of hype is about to smack Cincinnati right in the face this month.
The Grand Opening Party
You might have seen it already, but they have announced that Braxton Brewing Company's first day is March 27th at 5pm. The Garage will be open for business, with programming kicking off at 7pm.
The evening will include 2 local live bands playing music all night, a selection of local food trucks, and the unveiling of Keith Neltner of Neltner Small Batch's largest indoor installation to date. Of course, the launch of the areas next brewery wouldn't really be complete without a couple beers to drink along the way.
So far… they have announced that there will be two beers available that night:
Storm – A Golden Cream Ale – 4.8%
Jumper – A Hoppy Wheat Ale – 5.5%
However… we know that they have gotten approval for two more beers, and can only assume that if everything works out with timing that they plan on having them available as well (You can be sure that if they are going to, you'll hear about it on their Facebook, or Twitter accounts in the coming weeks.)
Crank Shaft – IPA – 6%
Dead Blow – Tropical Stout – 7.2%
My Take On The Beers So Far
Braxton is offering a perfect variety of beer styles that is looking to please the palates of any drinkers that might enter their doors for a beer. The names fit in with a hard working utilitarian garage theme that the brewery seems to have adopted. It's hard to identify what I'm most excited about. Like so many craft beer fans, I tend to drift towards hoppy beers, so the Crank Shaft IPA jumps out at first. However… when I really start to think about it, I LOVE that they are doing a cream ale, and after having an opportunity to try Evan's cream ale in the past… I get really excited that this is going to be on tap this summer.
My favorite offering though? Dead Blow, the Tropical Stout. If you've ever tried Lion Stout you can get a good idea of what this beer is going to taste like. A Tropical Stout is smoother than your typical American Stout, with less bitterness and nice fruity character (made even more pronounced in Braxton's version by an addition of date syrup) that to me, makes it a better summertime drinker than harsher stouts might be.
The Braxton Taproom And Experience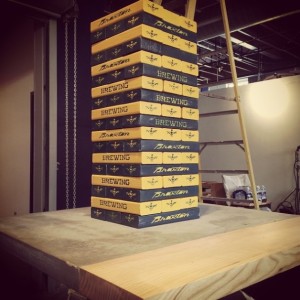 They are slowly letting details leak out (this brewery opening has been one of the best planned, most deliberate that I have ever seen here in Cincinnati), but what we know currently about Braxton is that the theme of the taproom is going to be tied in to their roots, homebrewing in their family garage.
The focal points of the taproom will be:
A center room, flanked by two garage doors and looking in on the brew space in the back of the building. There will be metered taps in here for party rentals, a massive white board wall for business meetings and a projector. When the space is not in use by private parties, the doors will be opened up to make the taproom space bigger.
Mural – I mentioned earlier about the unveiling of Keith Neltners largest indoor installation to date. This mural will reside behind the bar and will be 15 feet high and about 25 feet wide. The mural will depict the progress of Braxton, from the garage to it's new home in Covington. Consider it a timeline of sorts.
The Builder's wall. – as part of their Kickstarter campaign, Braxton Brewing pledged to include their backers' names in the taproom. The wall will be a 14ft wide by 7.5ft tall "hop eagle" logo that is made of birch tiles bearing the names of their backers. They had all these tiles made by Grainwell, a local woodshop down the street from the brewery.
Technology – Again… they are being tight lipped about all the details of the technology behind the "Taproom of the Future", but we know this – They have 1gb wi-fi (the first taproom in the counry to feature it) phone chargers around the space and what they are calling a state of the art app (which I'm told will be ready with the taproom on launch day) to comliment your experience at the taproom.
After some of the early pictures have started popping up, one thing stood out to me more than anything else… A big brown leather couch. Gone are the days of feeling like you are in an industrial brewery at every taproom. Braxton wants you to sit down, have a beer and spend some time there. Blogger's can conveniently log onto their GB wifi, plop their butts down in a comfortable seat and work away!
Thing are coming together!
I'll see you there on Friday, March 27th!