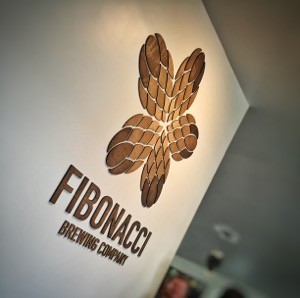 Slow and steady wins the race. The advice from that now famous tortoise is extremely valuable, and is advice that some breweries try to embrace despite what all of us beer fans scream at them day to day.  That being said… it's time for an update from Fibonacci.
Fibonacci Brewing Company in Mt. Healthy is churning along at a healthy pace, trying their hardest to not over reach in their progress as Cincinnati's newest brewery, and one of the first few nano-breweries in the area.  Their growth restrictions that they have put on themselves have ranged from limiting how much beer they were able to sell on days they were open for their first few weeks, and limiting those hours to one day a week, and even closing early a few times.  They have also decided (and are still holding off on) growler sales needed to wait until the demand for their brews levels out.
Time to Drink!
They have announced this week that today marks their first Friday that they will be open in addition to their normal Saturday hours, meaning that things are moving along at a good pace.  It should be a little easier for Cincinnati beer fans to make their way out to Mt. Healthy to sample what they are doing, and honestly… it's a pretty damn good weekend to do so.
The brewery has an Imperial IPA called Earth Daisy that received a little under-hopping during initial brewing.  However, it quickly became apparent that in these first few weeks of them being open that people loved this version of the beer…sooooo… that leads us to now when you will be able to try both versions of the IPA, the intended version which clocks in at a massive 121 IBUs and the "oopsie version" that comes in at a still respectable 81 IBUs.  Let them know what you think, and who knows… the lower IBU version might get to stick around?
The Information Superhighway
If you're here, you obviously know that you can access quite a bit of information about our local breweries on TheGnarlyGnome.com, but that doesn't mean that establishing a strong web presence isn't important to our local breweries, and that having a great website isn't important to the fans of those breweries.  Fibonacci understood this from the beginning with their social media, and have been hard at work building a website to compliment these social channels.
The website that they have developed has a nice clean interface and brings to your screen all their upcoming events, current beers and a little information about who they are, and why exactly they call themselves Fibonacci to start with.  Make sure you head over to the site, and let them know how much you love it on Facebook and Twitter.
What's Next?
As time goes on, and things start to even out a bit for the duo of Betty and Bob Bollas, they will keep working their butts off to make Fibonacci a destination spot for beer fans in the Cincinnati area, they have full intentions to keep adding days as they are able to make it as easy as possible for people to make it there as is convenient for them.  If people are complaining that you aren't open enough… it's only a sign of good things, but patience will win out on this one.  No one wants a brewery to be open too much and have difficulty keeping up with the increased workload.  Hold tight people…it'll get there.
They are obviously always working on making new beers, and with a nice cryptic tweet a couple weeks ago we saw a pile of peppercorns that we were told was for the next batch.  This peppercorn Saison is in the works, and you should be seeing it flowing from taps soon enough.  The bright spice of the peppercorn should play off the earthy Belgian yeast wonderfully and I can't wait to see what it's like.  You can rest assured that as soon as it's available, you'll hear about it from this gnome.
Along with variety of beer, it's always important to focus on quality as well.  I know that the quality of what they are putting out of the brewery is extremely important, and Bob will be focused in the coming months on improving the process and making sure that everything they are producing is of the quality that Cincinnati's ever discerning palates have come to expect.  Cold space is a prime commodity in their tiny, nano space, and they have plans to build another cold box at some point to help with it.
If you remember back to what we were hearing prior to Fibonacci actually opening, we were told that they were going to have wine flowing from their taps along with their beer.  I'm told that this is coming pretty soon as well.  Betty is off soon to go look into some wine to blend and put on tap to keep the wine fans appeased until they are able to produce their own.  The brewery will be of the very few in the area to produce their own wine when they get their "winery" up and running.  This diversity will help them grow, and most likely pull in some other drinkers that might not have stopped in otherwise, solidifying their desire to become a destination for people visiting Mt. Healthy.
Cheers!  Keep supporting your local breweries, and as always… Be Gnarly!