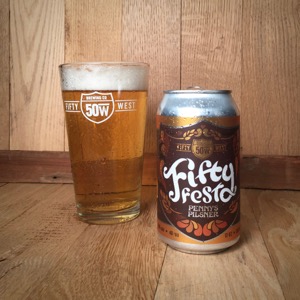 Brewery- Fifty West
Beer- Penny's Pilsner
ABV- 5.6%
IBU- 40
Named after our dear and deceased VW bus, Penny Lane, this true-to-style German Pilsner is exceptionally approachable.  Clean, crisp, and golden in color, expect a great brew with a light floral aroma and a refreshing taste.
Let's show some respect to a style that "big beer" has turned into boring, mass produced beer.  Pilsner.  This is a great example of what "craft pilsner" can be.  Like the brewery's description tells us, this is a crisp, clean and floral beer.  It's a perfect choice for one of their first canned offerings.
Drink this in the sunshine, or as the can label tells you to: "Enjoy with the wind in your hair."
This is a prime example embracing the idea that all the beers that a brewery produces don't need to be big giant flavored IPAs or Stouts.  Big things that will get people talking.  This is one that you aren't going to hear people raving about around town…but that doesn't in any way shape or form mean that it's not a great brew.  Give it a go, and see for yourself how delicious it is!  If you can snag one in a can there is a bonus: the label peels off the can and gains you free admission to this years Fifty Fest at the brewery… good deal!