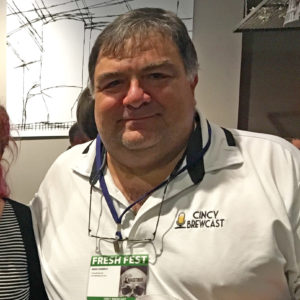 I wasn't sure how I was going to tackle this when I woke up this morning.  Beer is supposed to be fun.  Beer is about sitting with friends, cracking bottles open, sharing stories, sharing drinks – Sharing Laughs.
That's exactly what happened when you spent time with Mike Cisneros.
I met Mike a couple years ago, while ordering a couple beers at Mt Carmel's taproom.  His infectious smile and laugh is what made me trust him when he sent me a message about a week afterwards laying out his grand vision for Cincy Brewcast.  He wanted to give this craft community a voice, a way for people to hear from the people who own their brewery, make their beer.  He wanted the beer fans to have their own voice, and we had no idea how hard that would be to bring to fruition.
Since that time, we've done 74 Episodes of the show, met with almost 200 guests and drank more beers together than I have been able to count… I think it's safe to say that he was proud of what we built.
Cincy Brewcast isn't done.  I will do everything I can possibly do to carry the torch that he lit that night at Mt. Carmel.  That being said, bare with us during the transition – it's not going to be an easy one.  And please, above all else, keep his family in your thoughts and prayers – hug your loved ones today – and tonight, raise a glass for Mike.