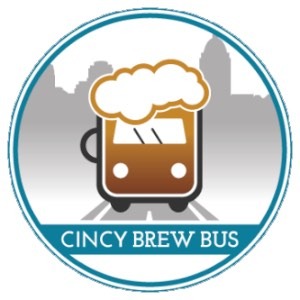 If you've yet to experience one of our local brewery tours via the busses that you've more than likely seen driving around from taproom to taproom – I can vouch that it's worth booking a tour ASAP, even if you're a "Veteran Cincy Beer Geek".
Every one of our local brewery tour companies does a wonderful job, and deserves mentioning.
However, this post is about one in particular that I want to throw a salute to because of their new partnership.
Cincy Brew Bus
What's Cincy Brew Bus?
In 2013, this craft beer scene in Cincinnati started to change. There was a slow rumbling building around craft beer and the excitement started to be noticeable to even the most casual of beer drinker.
Husband and wife team Mike and Jen Stokes are not your average craft beer fans, though. As things started growing around town, the urge to do something – to "do their part" if you will – started taking hold. Every major beer city has some sort of brewery tour bus program that helps drinkers navigate the brewery scene… why wouldn't something like that work in Cincinnati?
It has, of course.
Cincy Brew Bus is the original of such tours here in Cincinnati, combining history, beer tasting, trivia, and fun (of course) all in a tour that shuttles drinkers to and from taprooms around town. It's not a party bus, it's something more than that. It's a glue of sorts that has the ability to tie all our breweries together into something much bigger… a beer scene.
They've also just recently started doing a new tour that looks to tie it all together to an even deeper level!
Heritage And Hops
Once you start to get an idea about the Brew Bus and why they exist, this next part starts to make that much more sense.
This is almost like two different tours, smashed into one exciting day. It teams up Cincy Brew Bus with the Brewing Heritage Trail to give drinkers a peek at some of Cincinnati's historic breweries and their underground lagering tunnels followed up by a trip to three of the city's new craft breweries turning up the heat on what beer means to this city.
The tour kicks off with a one-hour tour along a portion of the Brewing Heritage Trail and into the historic Jackson Brewery building and tunnels.
Next up the bus will shuttle you on to 3 local craft breweries where you'll get some beer to taste, and some knowledge to share with your friends the next time you're out drinking.
These are small tour groups of 15 or fewer people – so you get a killer experience where you might even meet a few new drinking buddies.
When I talked to Brew Bus owner, and craft beer geek, Mike Stokes about him kicking this tour off, he emphasized how much has gone into making this a reality. "This was kind of the point the whole time," he told me. To talk to someone who had a vision from the get-go, not to become rich off us drinkers, not to pull some of the business away from craft breweries (The new "hot" industry), but to build something? That's why I get excited.
This is how this city grows and becomes a stronger beer city… and that thought is what keeps guys like me, and people like the folks at Cincy Brew Bus doing what we do.
Make sure you check this out! It certainly gets the seal of approval from the gnome. Hit them up on their website for more details, and to book your tour today!