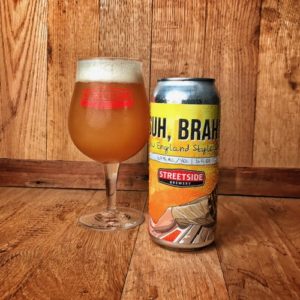 Brewery – Streetside
Beer – Suh, Brah
Style – NE IPA
ABV – 6.7%
Starting with an intense nose of stone fruit, grapefruit and light pineapple, the aroma is rounded out by the citrusy and piney notes from our double dry hop of Simcoe hops. The flavor leads with a soft pineapple/peach flavor, dank undertones of pine and citrus, and finishing with a fluffy, mouthwatering body.
NE IPAs are seeming to take the craft beer community by storm. It's insane how crazy beer drinkers seem to be getting over these hazy, fruity, juicy IPAs lately. It makes a lot of sense, then that Streetside would choose their fantastic example of the "Style" as their first packaged release on April 8th 2017.
The 16 ounce cans were released in the taproom, and Cincinnati beer fans all flocked to the event to snatch them up. This beer has a big hop nose from a double dry hopping of Simcoe hops, that lend a dank, but still juicy nose to the beer – but… that might be getting ahead of things.
If you want to listen to the episode of Cincy Brewcast that was recorded live from the can release line… literally – then you should probably head over and do that… since we're talking about Suh, Brah.
My Thoughts On Streetside Suh, Brah
Danky aromas drift off the glass, which is filled with a hazy orange/yellow beer and a sticky looking white head.
The flavor of Suh, Brah is a mixture of piney/danky hops and a crazy fruitiness that I don't typically find in a beer that is this loaded up with Simcoe.
The soft mouthfeel only pushes the wonderful, juicy, fruity flavor even more in the spotlight. This is wonderful, and goes down way easier than it should… pint cans are needed because of how fast is seems to disappear.