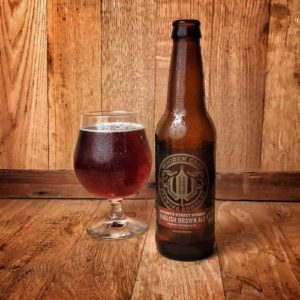 Brewery – Wooden Cask
Beer – Seventh Street Runoff
Style – English Brown Ale
ABV – 5.2%
Our Seventh Street Runoff is a Northern English style, light in body ale.
This beer does a great job at representing who Wooden Cask aims to be in today's craft beer world. The beer is sessionable while still maintaining a full flavor, and nice big body that makes you want to drink it with your feet up by a fire.
My Thoughts On Wooden Cask 7th Street Runoff
When you pour Seventh Street Runoff into your glass, you'll find a nice clear brown or coppery colored beer with a thin off white head.
Aromas drifting off the top of the beer are caramel, toffee, and some toast in the background.
The flavor is nice and earthy. I get a lot of nice caramel flavors that sweeten it up nicely. The beer manages to remain refreshing with a dry, earthy finish.
I find myself really enjoying this whenever I crack one open. It's full flavored, while still managing to be at home in a summer time drinking scenario which is a hard balance to achieve. Just a great beer, and one that Wooden Cask should be very proud of!