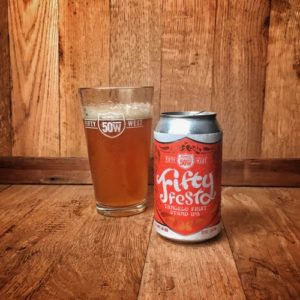 Brewery – Fifty West
Beer – Tangelo Fruit Stand
Style – Fruited IPA
ABV – 6.5%
IBUs – 70
Standing alone off the side of 50 West in Nowhere, NA is a rigidity wooden stand with some of the ripest fruits you could ever image. Some say it's a mirage caused by the insanity that the Loneliest Road causes. Some say when added to an IPA, these fruits make one hell-of-a juicy and dank brew.
Every year to celebrate their 'Fifty Fest' beer food and music festival, Fifty West releases a couple limited runs of cans.  When you buy a six pack you can pull off the can label and get yourself a free "golden ticket" to the event.  This is one of this years cans.  It was originally released in August of 2017 with it's companion can "Ocean City Gose" which quickly became somewhat of a collectors item when a quality control issue forced the brewery to quickly pull them from shelves.
This beer stands tall and strong by itself as the Fifty Fest beer for 2017… because it's pretty damn delicious.  Let's take a closer look!
My Thoughts on Tangelo Fruit Stand IPA
When you pour Fifty West Tangelo Fruit Stand IPA into your beer glass… you're going to get some chucks.  Don't fear these chunks.  The beer uses fruit to give it it's signature juicy tangerine punch that makes it so delicious… and those little floaty doo-dads are just pieces of that delicous flavor floating around.  Drink them up with pride.
In the glass, the beer is hazy (and chunky) – orange with a thin off white head on top.
The aromas are full on juice.  Lot's of orange, and a touch of grapefruit.  It's fresh and summery… perfect to represent the beer festival who's name splashes across the front of the can.
The beer tastes like an IPA and a fruit stand had a delicious, tasty little baby.  It's big and bold in flavor, but in an approachable way.  I have heard plenty of people rag on fruit beers… but I'm sorry, this is really good.  The sharp orange flavors sit boldly next to the bitter hops and assert themselves just as loudly forcing a balance that brings a smile to my face with each sip.
Fantastic beer… if you're lucky enough to be reading this and to still come across a six pack… get it and drink it.  Hopefully it's still fresh.  Man, this beer is awesome.  I hope it returns!