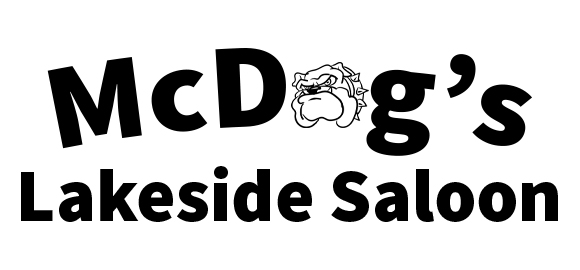 McDog's Lakeside Saloon
3611 Bevis Lane, Colerain Township
Facebook
513-385-7803
---
I love finding the oldest bars in different neighborhoods, and sometimes they play really hard into their history as almost a "theme." Other times, it feels like they don't realize the history under their barstools. The latter is the immediate feeling I got when I first walked into McDog's Lakeside Saloon in Colerain Township. That doesn't mean that they're doing something wrong, though.
The lake that the bar sits on was hand-dug back in 1879 by the original owner Jessie Bevis. He built a small cabin on the site where he sold food, fishing bait, and other general store items before it was eventually converted into a bar in the early 1900s. In the 1950s, the bar underwent many renovations to become the space we know today.
Today? Today McDog's is a neighborhood bar at it's very core. It doesn't scream history… instead becoming a bit of a gathering space for the neighborhood that has grown around it over the years.
What To Expect From McDog's
I'm not going to beat around the bush with McDog's… it's a bit divebar-ish. It's undoubtedly a neighborhood bar that usually has more than one 'regular' hanging out, no matter what time of day you visit. It's a little rough around the edges and definitely feels like a place that has been here for a while. I say that, but I want to emphasize that even if it feels a bit "unrefined," as long as you walk in the door knowing what to expect, I think you'll have a great time.
This is the type of place you go to for an inexpensive drink, a few good laughs with the people you'll meet, and a genuine taste of the neighborhood.
Outside is the lake where the bar gets the "lakeside saloon" part of its name. This small lake has a great patio next to it, which I can only imagine is a wonderful place to hang out in the summer months. Quiet, and downright relaxing, this patio sits next to plenty of green space that helps you forget the day-to-day chaos of life for a few minutes.
Why I'll Be Back
While I'll freely admit that I love the feeling of a great dive bar, that's not what draws me to McDogs. They don't have a wild beer selection or some groundbreaking cocktail program. I will be back to McDogs because it makes you feel like you're a part of the neighborhood. It reminds me of evenings sitting in the neighbor's garage when I was a kid. It feels like block parties, summer weekends, and celebrating someone's graduation.
It's about community, even if they don't market it that way – and that's why I belly up.