Braxton Gives Their Cincinnati Taproom A Remodel
Written By: The Gnarly Gnome
Braxton has made it clear that they are shifting their focus back to their taprooms. The brewery made a big splash with announcements of a new taproom down in Union, right by the namesake street they grew up on, and an airport taproom at CVG. Rumor has it they aren't done at those taprooms over the next couple of years, too – and if even that isn't enough – they're still not done tweaking and improving the spaces they already have.
The note that popped up on the social media page for Braxton's Cincinnati taproom space just said that it was "Temporarily Closed" – and as one of the many drinkers who still has flashbacks and fears from the shutdowns that never really opened back up back in 2020, I'd be lying if I didn't say my palms started sweating a little.
My fears were quickly calmed with a post from the brewery informing us exactly what was happening.
Introducing The Point
Braxton is shutting down the Cincinnati taproom to change the space into more than just a taproom. They're adding on an event center that they're hoping will become, as they're calling it, "not just a venue; an experience."
If you've been to the taproom before, you'll recognize the space as the back part of the taproom, where the large wall of TVs used to reside. They'll have seating for over 100 and what they're calling the "perfect AV setup." Regardless if you're planning a small wedding, a milestone celebration, or a corporate outing, they hope that the Point will be the place that you choose.
The Taproom
The taproom will return, just in a little smaller form. Braxton has said that they'll still open the event space for bigger days, like Bengals games, etc, for folks to be able to spread out a little – but the taproom will take on a little more intimate vibe that I'm pretty excited to see.
In addition, they are teasing a "new menu" that we can look out for when it all opens back up in "early September." As more details are released about the change and the remodel – I'll do my best to keep you updated right here!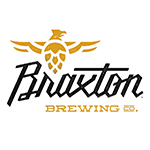 Read More About Braxton Brewing Company
---
Covington Brewery and Taproom
27 W 7th Street
Covington, KY 41011
BraxtonBrewing.com


---
Cincinnati Brewery and Taproom
331 E. 13th Str
Cincinnati, OH 45202
BraxtonBrewing.com


---
CVG Taproom
Concourse A
CVG Airport
BraxtonBrewing.com


---
The Barrel House, Brewery and Taproom
5 Orphanage Rd
Ft Mitchell, KY 41017
BraxtonBrewing.com


---